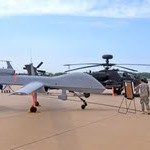 Update as of Tuesday, October 9:
A much anticipated event at Fort Riley Wednesday has been cancelled. Soldiers with the Army's 1st Infantry Division were getting ready for the first launch of a new unmanned aerial system from Fort Riley's Marshall Army Airfield.
But the event featuring the Gray Eagle drones has been put off, according to a spokesam with the First Infantry Division. A new date has not been announced.
Older story:
Soldiers assigned to the Big Red One's aviation brigade will take the final step in becoming the most modern aviation unit in the Army when they launch the Gray Eagle Unmanned Aerial System for its inaugural flight out of Fort Riley next week.
Company F, 1st Attack Reconnaissance Battalion, 1st Aviation Regiment, 1st Combat Aviation Brigade, 1st Infantry Division is scheduled to launch the
Gray Eagle Wednesday (Oct. 10) at Marshall Army Airfield.
Although the 1st Infantry Division is the second unit to receive the Gray Eagle, it will be the first to fly it from a home base in the United States.
Some of the capabilities the Gray Eagle will bring to the battlefield include longer reconnaissance time, weapon targeting of ground targets, and the ability to control the UAS from the Army's new AH-64 Apache Block III.