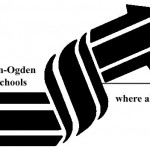 At the national level there was a big debate to witness, but here in our local Manhattan community another took place Wednesday as the USD 383 school board had their public meeting as to whether the high school should continue to have open lunch at the west campus or to close it.
Prior to the meeting, the administration sent out a couple of surveys, one to the parents another to staff.  The numbers were talked about prior to opening the meeting for those in attendance and also comments were read from those surveys.  Points were made on both to keeping it the same, to closing it and then to make change and stipulations for each.  The board then opened to hear the comments from the audience and a few students gave input, staff members and parents presented both sides of the issue.
The board made no decisions and will bring the issue back at their next regular business meeting on Oct 17.
The board had other issues to discuss at their meeting besides the issue of lunch.  They saw several designs for a new parking lot for the Manhattan High School West Campus, they were presented with the enrollment numbers as of September 20, they also approved  the purchase of buses for the fleet.
Next week will hold a special meeting to return to the issue of start time for the schools.  The meeting will begin at 6:30 pm, Wednesday, Oct 10.