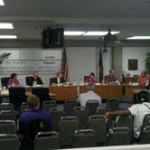 A special meeting for the Manhattan Ogden school board was held Wednesday.  The topic of conversation was to discuss and take action on the start times of the schools.
A few weeks ago, the board opened up for a public hearing and last night they joined the conversation.
A presentation was given on Wednesday to go over the results of the surveys for both the parents and for the faculty.  The majority who responded wanted to keep the schedule as is.
During their discussion, the board brought up issues of buses and money to increase the fleet, the loss of family time, the safety of the children who walk, and a few other issues.
After everything was said and done, the motion was presented to keep the start time as it has been for over 30 years, with the high school starting first followed by elementary.  The board passed with a 6 – 1 vote, with Walt Pesaresi dissenting.