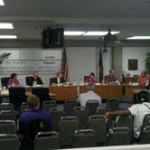 Though there were other issues to discuss at Wednesday's Manhattan Ogden school board, the issue of open closed lunch at the high school was probably the most awaited.
A few weeks ago, the board opened the issue to the public to get feedback on the issue to either keep the lunch period open or to move to a closed lunch.
At the meeting, discussion sounded the pros and cons of the issue and what should be done.
Superintended Bob Shannon took the opportunity to present a recommendation to the board that would seem a compromise to the all or nothing that seemed the focus.
The recommendation advised "that the current closed lunch period for students at MHS-E continue and that the lunch period at MHS-W remain open for junior and senior students and become closed for sophomore students beginning in August 2013.  The change to closed lunch for sophomores should be evaluated on or before March 5, 2014, to determine whether or not the lunch period should continue to be closed for sophomores only or extended to include junior in August 2014."
After debate on the safety and security of the students during the lunch period and on the amount of staff needed and space available, the motion was set forth and voted on with a 5-2 vote.  Board members Walt Pesaresi and Pete Paukstelis both dissenting and calling for a closed lunch across the grades.
Other issues at the meeting included bids for technology which all passed unanimously, along with reports on assessments, transportation and summer programs.