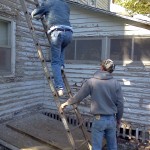 Members of the First United Methodist Church of Manhattan, joined by other volunteers, spread out into Manhattan and the surrounding communities on Sunday with the goal of working to help change the world, if just a little bit. This is the fourth time the event has taken place, and with each year, says coordinator Dan Myers, the number of volunteers has increased. Last year, he says, there were about one hundred and twenty, with the goal this year being one hundred and fifty. Myers was happy to report that that goal was not only met, but exceeded, with about two hundred people showing to volunteer their time.
The volunteers were assigned different projects that had agreed to be a part of the event. Myers says that this year, they have seventeen different projects that will benefit from the hard work of those putting their time in to help. Projects included sprucing up elderly church member's homes, including finishing a paint job that was started last spring. There was also a landscaping job at the Sunset zoo, painting being done at the Manhattan Emergency shelter, and working on planting a lawn at the Ogden United Methodist Church, just to name a few.
There were a wide range of ages that were volunteering. Myers says that parents were bringing out their kids as young as elementary school age in order to teach them the value of helping others. There was also a group of high schoolers that were working on the zoo project, and even people in their seventies that were pitching in.
Kansas State University Students were also represented. Garrett Kennedy, junior in agronomy says that he got five of his friends to help him on the painting project. He said that it was "good for them to get out and help one of their church members." He continued by adding that it was good to help out, and they could get to their homework later in the day.