During Thursday's Riley County Commission meeting, commissioners reviewed bids for the Walnut Creek Road Bridge Replacement.  Seven construction companies from all over Kansas submitted bids on the project.  The engineer's estimate for the project was $294,345.50, and six out of the seven bids were under that price:
King Construction Company, Inc. – Hesston, KS             $262,956.67
Midwest Construction Company, Inc. – Holton, KS       $277,339.30
Ebert Construction Co, Inc. -Wamego KS                          $268,353.59
J & J Contractors, Inc.-Iola, KS                                             $271,937.56
Reece Construction Company, Inc.-Scandia, KS            $259,929.96
L & M Contractors, Inc.-Great Bend, KS                             $270,025.32
Bridges Inc.-Newton, KS                                                           $316,765.06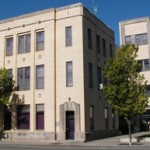 Planning/Special Projects Director, Monty Wedel came before the commission to share new zoning amendments for billboard signs needing to be approved.  Many changes and regulations have been put into place regarding billboard signs, such as; prohibiting stacked and digital signs to be put up.  A number of the signs on K-18 are "double decker" signs and Wedel said many of them will either be "grand fathered" or taken down.
After discussing these new regulations, the commission felt this will help drivers to focus on the road and unanimously approved the zoning amendments.
The Riley County Law Enforcement Center has been a popular item on previous commission agendas due to the upcoming re-naming.  The center will soon be named the Alvan D. Johnson Law Enforcement Center.
Assistant County Engineer, Gary Rosewicz was asked during a previous commission meeting, to look into possible plaque and sign placement locations within the center.  Rosewicz was in agreeance with Riley County Police Department Director, Brad Schoen that the best place would be directly overhead when walking in the center.  Eight inch block letters would match letters on a conjoining wall and would be instantly seen by anyone entering the building.  The commission agreed with this suggestion and decided to move forward with it.
Schoen was also in attendance at the meeting to give a department update.  While Schoen did not have a lot of updates to give, he did comment on the recent string of bicycle thefts.  Schoen said, "We believe these (bicycles) are being stolen and re-sold.  We think this is an organized effort by a few people, and that's who we are after." He also indicated the department currently has a plan to resolve this issue, but did not want to give any details about it at this time.