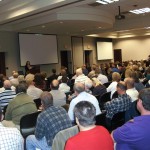 Although the county offices were closed for Columbus Day, county officials and staff did not get the day off.  The County In-Service Training was held at Kansas Farm Bureau in Manhattan, and the attendance packed the house.
The all day training featured various presentations, staff recognitions, and discussions.  Human Resource Manager for Riley County, Cindy Volanti gave a presentation on state health insurance that brought up a lot of questions.  With the changes made in insurance policies and coverage, many individuals expressed concern and/or confusion regarding benefits.  The updates in the policy manual was another hot topic at the training.  An Aflac representative was also in attendance to share updates on their insurance policies as well.
Various prizes and giveaways were awarded throughout the day and The Riley County Historical Museum gave a presentation on the history of the county.  The day concluded with Riley County Commissioner, Dave Lewis presenting his Game Show Road Show for entertainment.