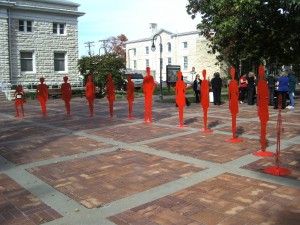 October is National Domestic Violence Awareness Month and the Riley County Domestic Violence Task Force took time to honor Kansas victims.
Held at the Riley County Courthouse Plaza, dozens of victims of domestic homicide were remembered.  Individuals came forward to read stories of victims, of various ages, off of plaques.  Each plaque had a ribbon on it so that after the story was read, the plaque was placed on a silhouette to symbolize that person.  Some of the victims remembered were once members of our regional community.
The annual event provides a time to learn about past cases of domestic violence in Kansas, and to raise awareness for domestic violence as well.
The afternoon concluded with refreshments.