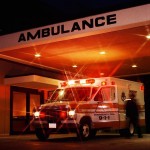 Two people were injured in a Thursday evening accident in Geary County.
Charles L. Valentine Jr (29). of Green was taken to Stormont Vail in topeka and Jessica Carter (30) of Alabama was taken to Geary Community hospital following the accient on Sixth Street in Junction City.
the Kansas HIghway patrol reports a 1968 Chevrolet C-10 driven by  Nicholas Thompson (20) of Junciton City was westbound on Sixth street when his vehicle blew a tire. The Chevrolet came to a stop on the outside lane. A second vehicle, a 2011 Ford Focus driven by Valentine was westbound on Sixth and stopped and activated the vehicle's flashers. Valentine got out of his vehicle to assist with changing the first vehicle's tire and was looking through his trunk to get out his jack when he was struck by a third vehicle, a 2009 Mazda 5 driven by Carter. Carter's vehicle then pushed Valentine's Ford into Thompson's C-10.
Valentine was first taken to Geary Community hospital, but later flown to Stormont Vail where he is listed in fair condition on Friday,  with Carter  taken to Geary Community. Thompson was not injured.