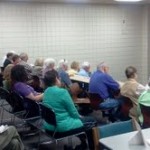 During Sunday's Riley County Commission Forum hosted by the League of Women Voters of Manhattan/Riley County, candidates from the Kansas Senate District 22, the House Districts 51, 66 and 67 all made appearances to talks about the issues that votes are concerned with.
During the three hour forum, each race was given time to talk starting first with the Kansas Senate District 22 with candidates Tom Hawk and Bob Reader.  Hawk leveraged his experience as a school administrator to illustrate his point of lack of funding in the public education sector.  Reader agreed the tax cut was too much to soon, and pointed out his phased in tax cut plan would not hurt the K through 12 school funding program.
The second race was between Kansas House District 51 with Richard Pikul and Ron Highland up to bat.  Pikul said the services he is most concerned with is in regard to public education explaining he had been brought up by the "Golden Rule: Do unto others as you would have them do unto you" and he feels we have a sense of responsibility for less fortunate families in our area.  Highland said we have to care of those less fortunate but we must take a close look at where our resources are.
Candidates Sydney Carlin and Lee Modesit for the Kansas House District 66 took the third round of the forum.  Both candidates seemed to be in agreement that they plan to focus on efficiency, in the hopes to keep the taxes down to a minimal cost.
Last, but not least was the Kansas House District 67 with Aaron Estabrook and Tom Phillips concluding the forum.
For the entire forum, check out our "On Demand" section on this website.