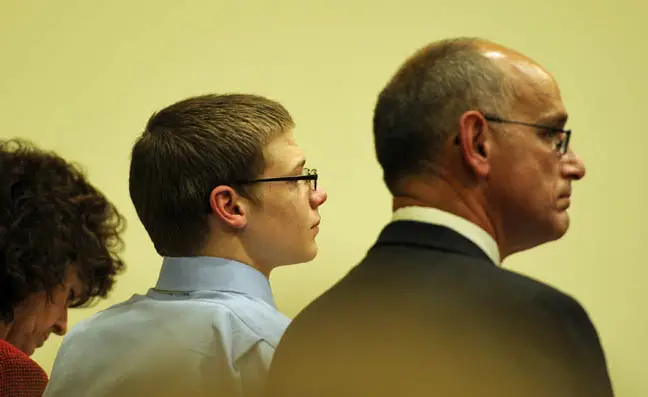 Cole Drake, the 16 year old charged with the homicide of Manhattan High School classmate, Tyler Dowling, was officially sentenced Monday afternoon in Riley County District Court.
Attorneys from both sides came before Judge Stutzman to share final remarks about the case.  Prosecuting Attorney, Barry Wilkerson was first, and began by saying "we're not going to dwell on the facts of the case, the court is well aware of the facts..this is a crime that shocked the community".  Wilkerson also said "the only satisfaction that can come out of a case like this, is if I can give Tracy and Angie back their son, and I can't".
Dowling's parents, Angie and Tracy, were in attendance to share a few words also.  Mother, Angie had prepared a speech and brought photographs, medals, and memorabilia to give Drake and the court a better idea of what their family has been through.
Sharing memories from Dowling's date of birth, all the way up until the last night she saw him, Angie aimed a few of her statements directly at Drake saying, "we saw his eyes open for the first time, you saw them close for the last time.  I hope his voice (Dowling's) haunts you in your days and nights in your prison cell."
Drake's attorney, Larry McRell also gave a statement saying, "It almost goes without saying, this case is a tragedy."
Drake was the last to give a statement before his sentencing, saying he had a letter for Dowling.  "You are the first person I think of when I wake up, and the last person I think of when I fall asleep.  You had a whole lot more potential than me" said Drake.
Finally, Drake was charged 165 months with secretary of corrections for the first count of murder, level one felony.  For count 2, aggravated burglary, he was charged 59 months with secretary of corrections.  For counts 3-8 of vehicle burglary, Drake was charged with 6 months with secretary of corrections for each.  The total sentence for Drake is 260 months.