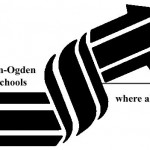 HazMat responded to Manhattan High School East Campus Wednesday.
USD 383 officials indicate a student accidentally broke a thermometer that contained mercury. A small amount of the mercury spilled onto a table and the floor. The Manhattan Fire Department Haz-Mat team were called and responded to the incident.
Communications Coordinator Michele Jones says the mercury reading in the room was well below the acceptable level for mercury. All students and adults that were in that room during first and second hours were isolated and readings were done on their shoes. All shoes were also found to be well below the acceptable level for mercury.
Students and adults were asked to take off their shoes and the Haz-Mat team cleaned the soles of the shoes as a precaution. The Haz-Mat team also cleaned and ventilated the room  were checking the level of mercury.