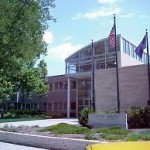 Manhattan City Commissioners discussed possible parking problems in the near future in the downtown area of the city at Tuesday's commission meeting at City Hall.
Commissioner James Sherow suggested looking into the cost effectiveness of paid meters to help improve business traffic flow in the area.  Assistant City Manager Jason Hilgers says the idea was considered before, but they have some issues up front with initial set up costs and maintenance.  However, Hilgers stated the idea could be looked into again to see if it is a viable option.
Space might become a problem as well, and Commissioner Richard Jankovich said it is time to be proactive in correcting the issue.  Commissioner Wynn Butler said one of the possible solutions could be a parking deck.
The commission also saw a presentation on the proposed new infrastructure improvements planned for the Poyntz core district.  Those improvements included cosmetic, and safety items such as new cross walk and water systems.
All items on the consent agenda passed with the exception of Item "D" which proposed the waiving of permit fees and utility connection costs for the new Stone Pointe Townhomes Addition.  Commissioners Wynn Butler, Richard Jankovich, and John Matta cast the dissenting votes on the item.