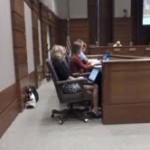 In a meeting that lasted less than 20 minutes, Riley County Law Board members still managed to cover a variety of topics, including concerns by the local Fraternal Order of Police regarding 12 hour shift changes. Local F-O-P treasurer Calvin Sanders addressed law board members during the public comment portion of the meeting, saying the Department is exploring the idea of moving all sworn officers to 12 hour shifts, which would have quite an impact on officers. RCPD Director Brad Schoen indicated it will be months before the matter is finalized, with this only being preliminary discussion.
Meanwhile, a question was asked about Fake Patty's Day, with Schoen indicating there had been recent meeting with a bar owner in Aggieville. He added he continues to reach out to Aggieville with emails and other means of communication, and says he's interested in whatever meetings there might be on the matter. But Manhattan Assistant city Manager Lauren Palmer indicated she hasn't heard of any specific requests from Aggieville business owners regarding the event at this time.
Law Board member John Matta told the rest of the group he had heard of  recent conerns voiced by certain apartment complex owners regarding solicitations. RCPD Assistant Director John Doehling admitted there had been some confusion with recent cases, but said many times it's left to the discretion of the officer depending on how visible "no soliciting" signs might be. Doehling did say there haven't been as many cases resulting in arrests lately though, probably because word's gotten around that a good number of people have been arrested for soliciting without a permit.
It was suggested that information about such things be put on the RCPD website, under frequently asked questions.  Director Shoen indicated the department's website is currently being looked at and that could be a possibility.
.