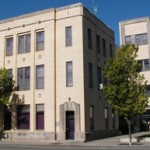 As the county's population continues to swell, especially the Manhattan area, the demand for the emergency services and programs is at a high point.
The current Riley County EMS building is 32+ years old and is lacking important amenities, such as a training area.  During the time the facility was built, the county had an estimated 1,500 calls.  The call volume has since expanded to around 4,400 calls today.  With around 12 full time employees back then and 23 full time employees now, it is no wonder the currently EMS personnel is outgrowing the facility.
County EMS Director, Larry Couchman came before commissioners, at their Monday meeting, to express a need for a new facility.  Couchman said the two best options are one, to look into combining with county fire somehow, or two, stay separate and do something around the county shop site.
Commissioners decided to look further into this need and revisit the issue at a later meeting.
County Counselor, Clancy Holeman was also at the meeting to present the Charter Resolution No. 10 Public Health Advisory Laws.  Holeman also discussed the Public Health Advisory Board and all of the candidates who have applied.  County Health Department Director, Susie Kufahl also spoke to this matter, saying the official deadline to apply is November 1st.
The meeting's press conference featured various public officials, including County Clerk, Rich Vargo and Riley County Research and Extension Director, Jennifer Wilson.  Vargo and Wilson mentioned items involving the upcoming elections.  Wilson spoke directly about the extension council elections.  The council members serve two year terms in four different areas:  agriculture, FCS, 4-H, and Community Development.  Vargo took the time to remind people to take advantage of advanced voting, as polls will be busy on election day.