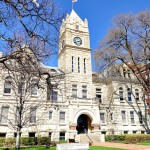 A couple of rulings were handed down Thursday, dealing with a Riley County murder that occurred in December of last year.
The judge in the Domingo Soto case has ruled statements made by Soto to Riley county police detectives will be allowed at trial. Soto is charged with aiding and abetting the first degree murder of Steven Freele, whose body was found on a country road in Manhattan.
In addition, the judge ruled another defendant in the case, 19 year old Reyna Youdath, who had been a student at Kansas State, can testify regarding statments made to her about the alleged murder. In addition she can testify as to coversations she overheard at Soto's residence regarding the case. Youdath's original charges were aggravated robbery and conspiracy to commit aggravated robbery.
Soto's trial is set for October 29th.