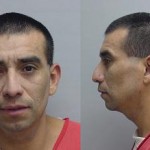 Twelve jurors were selected Monday during day one of Domingo Soto's trial.
Soto is charged with aiding and abetting the 1st degree murder of Steve Freele in December 2011.
During Tuesday's continuation of the trial, Prosecuting Attorney, Barry Disney began by questioning Riley County Police Detective Alan Riniker about Soto's cell phone history on the night of the incident.  Riniker stated there were nine outgoing calls in Soto's phone record, as well as 3 incoming calls and 12 missed calls-three of which were from Michael Lang.
Riley County Police Detective, Robert Dierks was next to take the stand.  Dierks serves mainly in the narcotics unit and has over 300 hours of narcotics training.  Dierks commented that most times, when a zip lock bag of smaller bags, like found in Soto's bedroom, it means it belongs to a distributor.  Disney showed evidence of meth, cocaine and marijuana, all found in Soto's bedroom.  An electronic scale, set on the gram function, was also found in Soto's kitchen.
Lastly, Detective, Brian Runyan took the stand to answer questions about the interview he had with Soto after the incident.  Runyan now serves with K-State police, but served with Riley County Police at the time this crime took place.  Runyan told the court, Soto said he possessed a 45 caliber pistol, but he did not own it.
This trial will resume at 9 a.m. Wednesday, and will continue throughout the week.