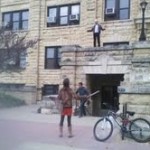 The Kansas State Campus was the scene of a reenactment of Henry V's famous patriotic speech to his troops just before the English fought the French at the Battle of Agincourt, on what has become known as St. Crispin's day. Appropriately named actor Henry Everett is with a group of London actors who have been visiting K-State this week and he tells KMAN it was not only a pleasure to perform on campus, but there's another unique aspect to Thursday's performance, with a "flash mob" quickly assembled.
A large crowd gathered for the flash mob event in front of Seaton Hall, across from the Student Union
26 classes and six departments were visited by the group of London actors during their visit to K-State the past week.This was the last stop on  an eight week tour.