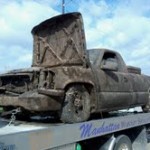 A vehicle was pulled out of the Big Blue River in East Manhattan Wednesday morning. Involved in the effort were the Pottawatomie County Sheriff's Department, U-S Army Corps of Engineers, and the Marysville search and rescue dive team.
The 2002 GMC truck was recovered from the west side of the river near the channel.  Valued at over $10,000 dollars, the truck was stolen from Cheney Construction during May of 2011. 
KMAN was at the scene and spoke to Detective Gerald Schmidt, who said the suspects are known and are currently confined in Junction City on unrelated charges.  Upon investigation, Schmidt said it appeared the suspects had entered the back lot of the construction site and the keys were in the truck.  The suspects started the vehicle and drove it through a gate.  Schmidt also indicated the truck had been taken so the suspects could retrieve tools out of it, and then they disposed of the truck in the river.