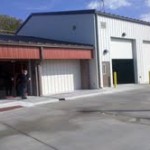 On Saturday, Oct 13, the Traffic Operations Facility had its open house to welcome the community in to see the new building.
Starting the morning with an opening ceremony, the tour moved those in attendance through the conference room for a powerpoint presentation to discuss the beginning of the facility and to where things are now. 
The tour then moved to the control center where computers and televisions were set watching traffic and showing how things are progressing as the days goes by.
The offices were the next on the tour, followed by the sign making room where the process of making signs was demonstrated.
The new building is positioned at 11th and El Paso and there is room to grow if the need presents itself.
But for now, Rob Ott, Manhattan city engineer, is happy with the way things are.