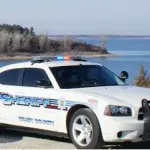 A Topeka man was injured in an early morning accident that caused a traffic tie-up on I-70 in Geary county early Monday morning.
Jeremy Mulham was taken to Geary Community Hospital by ambulance following the accident, reported shortly before seven a.m.
The Geary county sheriff's department reports Mulham was westbound at mile marker 305 when his ehicle struck the rear of another vehicle, Mulham lost control, and rolled his vehicle several times. Junction City Fire and EMS crews extricated him from his vehicle. Lifestar was present but was not needed for transport.
Two other vehicles were damaged due to debris but no other injuries were reported.