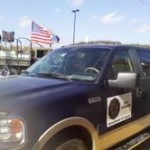 Manhattan was one of many stops for American Legion National Commander James Koutz Tuesday. Koutz had lunch with the local post and made comments about the number of issues pertaining to the more than 225-thousand military veterans living in Kansas.
Commander of local Post 17 Harold Randa saysone issue of concern of the military is veterans who will soon be returning  home, especially those who are wounded.
CommanderKoutz commented to KMAN  a main concern that has been brought up has been the backlog of claims in the VA.
Koutz and his staff began their journey across Kansas on Monday and will be concluding on Thursday in Winfield. Other stops include Wichita, Derby, Newton, Emporia, Chapman, Wilson, Hays, Bazine, Garden city, Liberal, Copeland, Dodge city, Greensburg, Pratt, Attica, and Lincoln.
Koutz was elected August 30th and he not only plans to visit the national posts, but to make some overseas ventures as well.