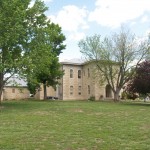 Most of an animal cruelty case in Pottawatomie County KMAN news has been telling you about for almost a year has been resolved.
Amanda Hoke (21) and  Derrick Hoke (42) have entered into a diversion with the state on the 10 misdemeanor counts of animal cruelty. Pottawatomie county attorney Sherri Schuck  tells KMAN the state offered a diversion based on the lesser culpability of the defendants and the benefits to each party. 
Each defendant will be on diversion for 12 months, with certain terms and conditions that must be completed. Shuck adds a failure to complete the requisite terms and conditions could result in a revocation of the diversion.
Schuck adds the resolution allows for accountability and if successful, benefits both parties. If there's a failure, she says it benefits the state by removing the expense of a lengthy trial.
The Hokes were arrested after the neglect of horses was reported in December of last year.
Only one defendant remains in the case.