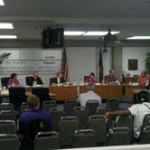 A trip down memory lane started Wednesday night's Manhattan Ogden school board meeting as Universal Construction gave their final report.  As part of the finishing up of construction, Thursday will see the open house for Marlatt Elementary from 6 pm – 7:30 pm.
During the old business item section of the meeting, the board brought back the issue of senior early release.  Again, there was no audience participation, but the board did have their own discussion.  Board member Pete Paukstelis brought up a couple of issues that had him concerned including the fact that at a previous board meeting many years ago, those board members voted to gradually get rid of early release.  The answer as to why it was never actually fully implemented was unable to be determined by administration.
Over the past few weeks, the board has also been able to examined the comments that were made on a survey as to the feelings towards senior early release and after a recommendation from Superintendent Bob Shannon, the board voted 5-1, with Paukstelis dissenting,  to keep senior release as is.  There is one item that will be examined and possibly brought back and that is to examine the definition of college and career ready and how that may possibly be used in the future as a means to change the policy.
The board also had a chance to review some of the courses that are being offered and how things may need to change.  A debate occurred over the issue of math for the 7th and 8th grade, with board member Paukstelis looking to get students ready for calculus in 12th grade therefore getting them into algebra earlier and other such as Dave Colburn, board president, wanting to build a foundation for the students to work on and not forcing them further on until they are ready for it.
After the discussion ended, the board passed all the course changes with a 6-0 vote.
Other items that were on the agenda included the Manhattan High East chiller repair final payments, the proposal for HVAC improvements, a bid for mobile workstations and the superintendent salary increase.   All of these issues passed unanimously.