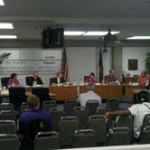 The third issue from the Manhattan Ogden's winter retreat was put on the agenda for a public hearing on Wednesday, but unlike the other topics, the issue of the early release for senior did not bring a crowd to the meeting.
When the public hearing started and the board called for anyone to speak, no one took the opportunity.  The board then closed the hearing and went on with other matters.
The board had an informational report about the partnership with Fort Riley that brought some discussion of the second count date again.
There was also the final approval for the open closed lunch issue and the motion passed to close for sophomores with a 5 – 2 vote with board members Pete Paukstelis and Walt Pesaresi voting no.
The request for a study of the Manhattan High East campus was tabled until a more defined plan is created to express clearly what the study will be trying to decide.
The board also approved the disposal of surplus buses and the first reading first reading of the implementation to remove the River Trail Addition as a current hazard zone beginning January 2013.
The board's next regular business meeting will be on November 28.