K-State took care of business in Fort Worth Saturday night, with all eyes on Collin Klein's health. After being banged up in the previous game with Oklahoma State, Klein threw his first Big 12 pick of the season on the opening drive, but quieted the concerns after connecting with Chris Harper for 62 yards on the next series then scampering in from 7 yards out to score the first of two TD's for the evening.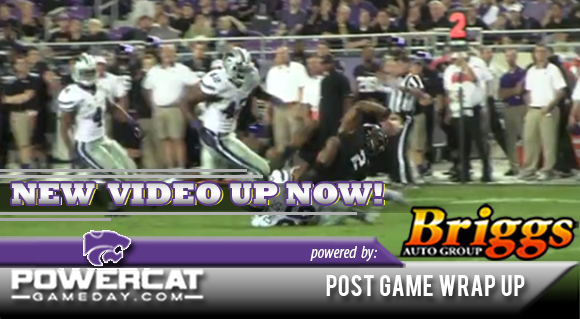 Anthony Cantele kicked three field goals of 41, 20 & 27 respectively but missed a fourth in the final moments of the first half after K-State safety Ty Zimmerman picked TCU's Trevone Boykin and dashed 33 yards setting up a 48 yard strike that went wide.
K-States defense was tenacious and held the Horned Frogs scoreless through 3 quarters and Klein sealed the game when he galloped 34 yards to put the cats up 20-0.
After playing spoiler to the Cats in the 1998 Big 12 Championship game, Texas A&M may have cleared a path to the National Championship for K-State if they can win out. Texas A&M defeating Alabama, the former consensus #1 team in all 3 polls, propelled KSU to #2 in the Coaches & AP polls and may move them to #1 in the BCS tonight.
K-state faces the 4-5, 1-5 (Big 12) Baylor Bears next Saturday at 7pm in Floyd Casey Stadium in Waco and #15 Texas 8-2, 5-2 (Big 12) the following week at home.
For full video wrap-ups, including analysis, highlights, coaches & player interviews of K-State Football & Basketball check out PowerCatGameday.com
Get Updates and Alerts on all things KSU on your phone! text powercat to 88474