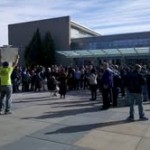 During the afternoon hours on Tuesday, a crowd gathered in Bosco Plaza at the Kansas State Student Union on the K-State Campus at what seemed a religious demonstration as a couple was out talking of their beliefs to the students. 
Campus police were on scene for a while to make sure the demonstration was peaceful, which it seemed to be.  A few verbal sparring matches did ensue between students and the couple, but nothing developed from it.
The woman there said she would "freely judge anyone who wanted to be judged".  She made mention to issues she and her "Christian Belief" had against women, blacks, gays and others. The woman said "[she]had more respect for prostitutes than the girls who just give it away."
The crowd fluctuated throughout the afternoon as some left and others came to the hear what was being said.