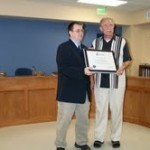 The City of Wamego is named a leader with its  floodplain program. At Tuesday's City Commission meeting, City Manager Merl Page introduced Kansas Department of Agriculture's National Flood Insurance Program specialist, Steve Samuelson, whose job it is to assist cities in interpreting FEMA's rules and regulations. He was there to present a plaque recognizing Wamego for its floodplain management program.
According to Samuelson, the Community Rating System or CRS, rewards communities for excellence in floodplain management. Because of the good work done by Ken Stein and other staff in Wamego, will mean the citizens will get discounts on flood insurance. He said FEMA does not require communities to join the Community Rating System, but the Wamego staff took on the extra work and responsibility voluntarily.
Samuelson said the City of Wamego is officially in CRS effective October 1, 2012. There are only 13 communities in Kansas that are now members of the CRS program. This makes Wamego a leader with one of the best floodplain management programs in Kansas.
In his presentation, Samuelson said the work that was done in Wamego involved outreach and education. The citizens, lenders, realtors and insurance agents of Wamego will be better educated about flood risk, flood insurance and flood mapping. Communities that join CRS are often safer than other communities. He said Wamego should be more resilient in the event of a disaster.
Samuelson said it is a winning situation for everyone. The citizens win because they save money and get good information. The governing body gains the political goodwill of having done good work that saves the citizens money, and the City staff have a rating that they can use to compare themselves to other communities in Kansas.
Mayor Bill Ditto accepted the plaque on behalf of the City of Wamego staff.  (picture above)