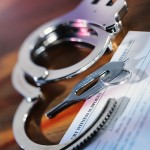 A former K-State football player has pleaded guilty to bank robbery.
 Xzavier Stewart (23), of Chicago, pleaded guilty to one count of bank robbery. in his plea, he admitted that on August 20, 2012, he robbed the Bank of the West, located in Overland Park. He demanded money from the teller, who recognized him as the same man who had robbed her at the same bank the month before.
Stewart played as a defensive tackle at Kansas State from 2007-2008, before transferring to Illinois State before the 2009 season.
Sentencing is set for February 19, 2013. Stewart faces a maximum penalty of twenty years in a federal prison and a fine of up to $250,000.