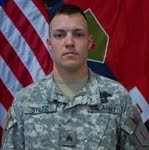 On Monday, Staff Sgt. Matthew Stiltz, 26, of Spokane, Wash., died of wounds suffered when insurgents attacked his unit with indirect fire while in Zerok, Afghanistan.
Stiltz was an infantryman assigned to the 1st Battalion, 28th Infantry Regiment, 4th Brigade Combat Team, 1st Infantry Division, Fort Riley in February 2006.
Stiltz was on his third deployment with two of them in Iraq in support of Operation Iraqi Freedom.
Stiltz was posthumously promoted to the rank of staff sergeant.