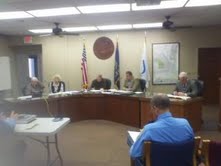 The five Riley County Law Board members present for Wednesday's special meeting regarding health care insurance agreed unanimously for Riley County Police Director to have the authority to select a plan within parameters of a spread sheet he provided them. Most of the plans are well below the 1.63 million budgeted for 2013.
The state plan was one option, which would be about 1.5 mllion dollars–but RCPD Director Brad Schoen cautioned that if approved, that would lock them into a three year plan. Both Law Board members Wynn Butler and Loren Pepperd expressed concern about that.
Meanwhile Board Member Rich Jankovich, who made the motion to give Schoen the authority expressed praise for Director Schoen and the presentation on the options. Schoen however credited RCPD Captain Richard Fink for his work on the matter.
Meanwhile,  Board Member Dave Lewis had invited Riley County's Human Resource Manager Cindy Volanti to comment on the way the county handles its insurance plan with the state, which she says has been pretty stable. However she admitted there's been an effect from so-called Obamacare. Assistant City Manager Lauren Palmer also commented on the city's way of handling things.  The city is self-insured, and Palmer says while they're prepared to comply with changes in federal law, there is some concern when it comes to no maximum lifetime limit.
 Currently the group is considering staying with the RCPD's current plan to give time to see how the state plan works out. But again, Director Schoen has the authority as more information comes in to make the final decision on the matter
Director Schoen, by the way, will be a guest on KMAN's "in Focus" program Friday, and wil likely discuss the options in more detail.