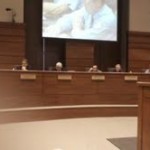 It took more than an hour to come to some kind of agreement, but after several minutes of discussion, Riley County Law board members finally decided to plan on a special meeting in the near future, after more detailed numbers have come in regarding health insurance coverage. Riley County Police Director Brad Schoen told the group there is a time crunch, but it's difficult as some of the bids, and information about possible state coverage, are not yet in. But Schoen was relieved the group determined a likely meeting next week, even though the state doesn't plan to meet until December 10th.
Board member Wynn Butler, who had expressed concerns with what he described as a very complicated issue, was content with the special meeting idea. Board member Barry Wilkerson spoke up in support of the Director Schoen making that decision when the time comes. Board members Dave Lewis and Rich Jankovich also seemed supportive of having the Director go ahead, but board members Butler, John Matta, and Loren Pepperd had some questions. Board Chair Karen McCulloh was not present for the meeting. Pepperd also asked about the impact of Obamacare, which law enforcement administrators indicated there would be an impact.
In other action, board members said no to a grant for night time seatbelt enforcement program, and recognized Dectective Dustin Weiszbrod and Crime Scene investigator Alan Riniker as the first two law enforcement personnel in the state to receive national  certification for emergency responses to hazardous material incidents.
Law board members also heard from local Fraternal Order of Police past president Brian Swearingen about a poll that had been taken regarding a proposal being considered for 12 hour shifts. Out of 84 polled 49 were opposed, 20 were in favor, and 15 were indifferent. Swearingen did indicate there had been productive meetings with RCPD Director Brad Schoen and Assistant Director John Doehling on the matter.
Also during the law board meeting, Director Schoen reminded board members of the upcoming Commission on Accreditation for law enforcement agencies, set for December third through sixth. The public will have a chance for input the evening of December fifth at 6:30, and a telephone call-in line is available,  on December fourth from two until four in the afternoon of 785-565-4183 . Written statements can also be sent in.
Director Schoen explained at that time the board can prioritize what the choices are and in his words "twiddle their thumbs"  until the answer comes from the December 10th meetin