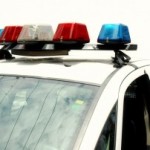 An arrest followed a more than six hour stand-off north of Manhattan Sunday.
Riley County Police say they received a domestic disturbance call at approximately 1:42pm on Sunday at 6030 Tuttle Terrace mobile home park.  The preliminary call indicated a firearm might be involved in the incident.  Preliminary police reports indicate an injured female was able to make the phone call to police, saying the suspect was still inside the  residence they shared at Lot 23.
RCPD Captain Tim Hegarty says police made contact with the victim and attempted to make contact with the suspect. Since reports indicated the suspect was armed, nearby trailers were evacuated and a perimeter was set up . Tactical and hostage negotiation units were contacted. Over the next three or four hours police tried to make contact with the suspect "any way they could," but he was not answering a cell phone or responding in any way.
In the meantime a search warrant and arrest warrant were obtained, and the suspect surrendered without incident shortly before eight Sunday evening. Brian Elliston, 32, faces charges of aggravated kidnapping, aggravated battery,  aggravated assault. criminal threat, felon in possession of a firearm, and battery. His bond has been set at $100,000.
Hegarty says they were "very happy to have resolved this without serious injury, loss of life, or serious damage to property."
While residents were impacted for several hours, Hegarty indicates they were cooperative, with only a handful staying on the premises.
There was a report of guns in the home,  which is why Hegarty says they operated under the belief Elliston was armed with "very specific, calculated steps."