The Kansas State Men's Basketball team tuned up for the semifinals of the Preseason NIT Tournament by running North Florida out of Bramlage Coliseum with a 74-55 victory on Sunday afternoon.
Rodney McGruder led three Wildcats in double figures with a game-high 16 points, Thomas Gipson chipped in with 12 points off the bench and Nino Williams added 10. K-State got off to a fast start in both halves preventing any opportunity for the Ospreys to be in the game. The Wildcats led by as much as 71-42 before being outscored down the stretch 13-3.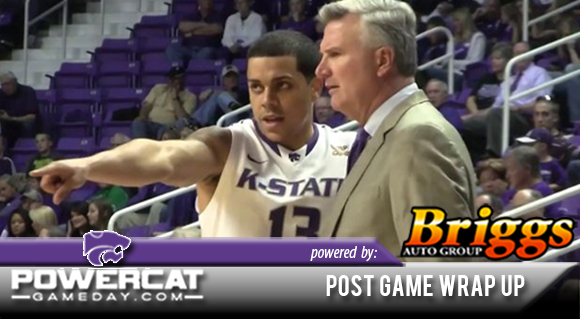 Kansas State (4-0) now heads from the Little Apple to the Big Apple as they will take on Delaware Wednesday night in the semifinals of the Preseason NIT Tournament at Madison Square Garden. A K-State victory would put them in the Championship Game on Friday against either Michigan or Pittsburgh. The losers of Wednesday's games will play in a Consolation game also on Friday.
Tipoff for Wednesday's game is set for 6 p.m. CST. Coverage begins at 5 p.m. CST on Sports radio 1350 KMAN and the K-State Sports Network from Learfield Sports.
For full video wrap-ups, including analysis, highlights, coaches & player interviews of K-State Football & Basketball check out PowerCatGameday.com
*** Get Updates and Alerts on all things KSU on your phone! text powercat to 88474