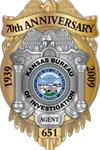 Calls have been rolling in to the KMAN studio about the number of Kansas Bureau Investigation vehicles seen around the area.  KBI Agents from across the state of Kansas will be in Manhattan this week, but don't be alarmed, it's just a training exercise.
In coordination with Kansas State University and the Tuttle Creek Reservoir staff, KBI Senior Special Agent, Steve Bundy says "they are training for the crime scene response teams that are placed throughout Kansas this week".
There are twelve people participating in the training and their are a number of exercises involved, including:  extrication from graves, with pigs being used and other evidence placed in the graves out by Tuttle Creek Lake.