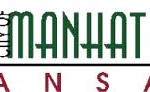 Tis the season, and the Mayor's Spirit of the Holidays Parade showcased Manhattan's spirit on Friday night.  The downtown area was lit up in festive lights and a signs of the upcoming holiday seasons.
The parade started at 6pm and threaded through the downtown area, and ended in a lighting ceremony in Triangle Park.  The parade featured many participants, and of course Santa Claus made his appearance.
Many families gathered to watch the parade, and enjoy the lights and sounds of the holiday.
The event also celebrated the giving spirit of the season as they accepted donations of canned food for the Flint Hills Bread Basket.