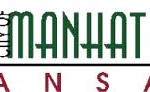 The announcement was made on Friday, that Bill Raymond will be named City Attorney for Manhattan effective December 17th.
Raymond will be replacing Katharine Jackson who has put in her resignation effective December 14th, after accepting a position as Axxociate Graduate Faculty and Academic Advisor for the Department of Political Science at Kansas State University.
Raymond will be responsible for providing legal expertise in a broad variety of municipal matters, including legal advice and counsel to City staff, elected officials, contracts and franchises, land use, real estate, employment law, ordinances and code provisions, intergovernmental agreements, as well as directing prosecution, litigation and external counsel.