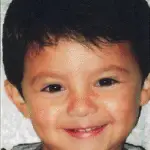 Around 3:00 p.m. Sunday, 39 year old Arano Chavez of Manhattan, reported that his three year old son had been taken by the child's mother in violation of a court order. The child is Benjamin Antonio Chavez-Birdwell who is 3'3″,and weighs 50 pounds. He is believed to be with Sonja Karin Birdwell- a white female, 5'01" and weighs 140 pounds, with brown hair and brown eyes.
As reported by KMAN earlier,  Ms. Birdwell is believed to be in a stolen 2008 white Mazda 3 Sedan bearing KS 053 EBR.  The car has damage to the front grill and the front drivers side bumper. It also has a "Briggs Auto" front tag.
Police indicate they believe the child is in danger the longer he stays with his mother. The two were reportedly spotted twice in Topeka since Sunday.  If you have any information about this case, please contact your local law enforcement agency.