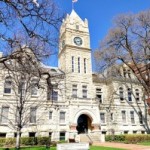 Just a week after one defendant was found guilty in connection with a fatal shooting in Riley County the end of last year, another defendant has entered a plea of no contest to reduced charges in connection with the same case in Riley County District Court. Michael Layne, 20, of Manhattan entered the plea Tuesday to charges of second degree murder, kidnapping, and aggravated robbery in connection with the December 2011 death of Steven Freel, 31. His sentencing is set for December 19th.
As KMAN news reported earlier in the year,  Layne's first degree murder trial was delayed at least a couple of times, with an original May first trial set, which was then moved to September. He was originally charged with not only first degree murder, but also aggravated robbery, aggravated burglary, conspiracy to commit  aggravated robbery and kidnapping.
Just last week Domingo Soto, 42, was convicted of aiding and abetting first degree murder.
Freel's body was discovered on a dirt road north of Manhattan, with KMAN news calling in live reports from the scene at that time. Several other arrests were made following the murder in connection with robberies that had been committed in the Manhattan area.