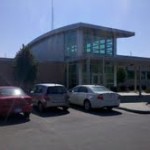 An auto versus pedestrian accident sends one person to the hospital.
Riley County Police report that at approximately 11:37 Tuesday night, Amber Engelbert (21) of the 1000th block of McCollum was looking at her phone as she was crossing Bluemont Avenue when she was struck by a car driven by James Young (19) of the 2000th block of College View Road.
Young struck Engelbert on the passenger side of his car, causing her to sustain lacerations and a possible head injury.
Englebert was transported to Mercy Regional Health Center, and was admitted for treatment. No citation was issued to Young.
————————————————————————————————————————————————–
A case of criminal damage to property results in a significant amount of damage to a tree.
Riley County Police told reporters on Wednesday that around 3:07 Tuesday afternoon, Abdullah Fattaey reported to them that a tree planted in front of his apartment complex had sustained a fair amount of damage, including gouges to the trunk, as well as multiple limbs being snapped off. A doorknob to the property had also been damaged.
The estimated loss is $6,150. There is no suspect in this case, and police are investigating