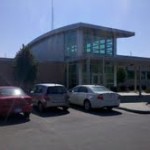 Riley County Police received a report Wednesday of a vehicle that had been stolen. John Ruggen (21) reports that his light blue 1990 Jeep Wrangler had been taken sometime in September of this year, from the 100th block of 15th Street in Ogden.
The total loss is $4,000, and police are investigating.
———————————————————————————————————————————————-
A Manhattan man reported to Riley County Police Wednesday that his vehicle had been broken into and his wallet had been stolen.
Johnathan Harner (22) says that sometime between 1:50 p.m. and 6:44p.m. Wednesday, his unlocked vehicle, located in the parking lot of Manhattan Town Center Mall, was entered and his wallet, containing his debit card, was removed.
The card was then used at various locations within the mall to unlawfully charge $1,000 worth of merchandise.
The suspect is unknown, and police are investigating the case.