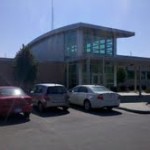 A child is taken into protective custody on suspicion of aggravated battery.
Police told reporters on Monday that on the morning of November 14th, a three month old baby was taken to Mercy Regional Health center with possible head injuries. The child was then transferred to Stormont Vail hospital in Topeka. Staff at the hospital suspected that battery had taken place and contacted the Topeka police department.
The Kansas Social and Rehabilitative Services agency was contacted and the case was referred to the Riley County police department. Police suspect that a caretaker has harmed the child, and all leads are being followed.
The child was taken into police protective custody, and a temporary custody hearing took placeMonday morning.
—————————————————————————————————————-
Two local youths are detained after being caught damaging property with a BB gun.
Riley County Police told reporters on Monday that a case of criminal damage to property was reported to them Saturday morning.
The victim, 43 year old Gordon Brundige (Brun-dage) reported that sometime between 9:00 on Friday night and 9:58 Saturday morning, three of his vehicles, located on his property on the 800th block of Yuma in Manhattan, suffered damages from what appeared to be a BB gun. A drivers side window on a chevrolet pickup was damaged, costing $250, A Pontiac Firebird sustained window damage costing $260, and the windshield of a 1988 Ford F-150 pickup truck was damaged costing $222.
Upon investigation, police detained two seventeen year olds who were suspected of causing this damage. They were released to the custody of their guardians.
The two juveniles are also suspected of causing similar damage to a car parked at the 400th block of Yuma that resulted in $100 worth of damage.
———————————————————————————————————————
An incident at the Riley County jail results in an investigation of Battery.
Riley County police told reporters on Monday around 1:00 Sunday afternoon, an inmate at the jail became aggravated and tore a handset out of a pay phone in the facility. He then threw the handset at correctional officers Jason Deehr and Craig Kennedy. The inmate then proceeded to threaten the officers with another piece of equipment from the phone.
Charges of battery, criminal damage to property, and aggravated assault are being investigated.
———————————————————————————————————————-
Riley County police told reporters on Monday that around 1:00 Sunday afternoon, they were called to 107 South Nevada in Leonardville for an unattended death.
Louise Ahlverg (57) was discovered in her home by her personal assistant when she arrived at her home.
Next of kin have been notified, and an autopsy has been requested.
————————————————————————————————————————-
Multiple parole violations lands a Manhattan man behind bars.
Riley County Police told reporters on Monday that Howard Horton of Manhattan was taken into custody at 9:10 Friday night on multiple warrants .
Horton was charged with one count of failure to appear on an original charge of driving on a suspended or revoked license and one charge of failure to appear with an original charge of speeding.
A warrant was also issued to him for unpaid parking tickets, and two for probation violation. He was also charged with violating a protective order.
————————————————————————————————————————-
Multiple charges leads to a revocation of parole for a local man.
Riley County Police told reporters on Monday that around 5:00 Friday morning, Joseph Griffiths was taken into custody as a result of multiple warrants that had been issued for him.
One warrant was issued for theft and three counts of criminal use of a financial card, and two warrants were issued for theft. All three warrants also included revocation of parole and probation,
Griffiths remains confined on a $5,500 bond.
Howard remains confined on a $6,605 bond.