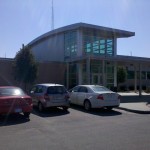 A man remains confined in the Riley County Jail after violating his probation.
David Maldonado, Jr, 37, was arrested for probation violation after failing to stay away from drugs.  The probation was granted on an original charge of burglary, possibly in the connection to a burglary at the Manhattan Country Club in 2008.
Judge Bosch set for no bond on this violation.
————-
Two vehicles outside of the Seth Child Cinema located at 2610 Farm Bureau Rod saw some damage.
The first vehicle was witnessed begin broken into after a car alarm sounded sometime between 4:30 and 5 pm Wednesday.
Cory Hendrickson, 23 and a junior at Kansas State according to the K-State directory, observed a female walking away from a blue 1999 Toyota 4Runner after the car alarm sounded with a purse, which was remove from the front passenger seat through the broken window.
Hendrickson proceeded to confront the suspect, got the purse back, and called police.
Police returned the purse to the victim Jenna Bell, 28, of Manhattan.
The suspect is described as a 25 year old female, blonde hair, blue eyes, five foot two, with freckles.
The total loss ended up only being 250 dollars, as the four hundred dollar purse was discovered.
The second vehicle also had a smashed window.
Though, the victim, Matthew DeKat, 44, of Wamego, report nothing was taken from his white Ford F150.
Total damage is unknown.