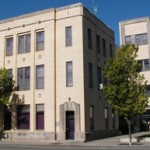 The Riley County Public Works Department currently holds three wheel loaders in their possession, one of which is being leased.  The other two are over 20 years old, one 1989 loader and one 1990 loader, and are becoming less than reliable.
Public Works Director, Leon Hobson came before commissioners at their Monday meeting to express concern regarding the 1989 loader in particular.  Hobson shared photos of the rust beginning to collect on the vehicle.  These loaders are used for culvert projects and snow removal, so Hobson recommended looking into purchasing a new loader before snow season hits.
The commission voted to move forward with the purchasing of a new loader by using the extra funds not used in this year's CIP budget.
During the press conference portion of the meeting, commissioners heard from a variety of department heads about important events and reminders.
Riley County Fire Chief, Pat Collins spoke during the conference about daylight savings time.  Now that everyone has turned their clocks back, it's a good time to replace your smoke detector batteries as well.  Collins also spoke about cleaning chimneys, saying "there are problems beyond soot, such as cracks in chimneys, which is why it is important to have a professional come look at your fireplace".
Riley County Historical Museum Director, Cheryl Collins invites everyone to an upcoming event at the Flint Hills Discover Center.  At 5:30 p.m. on November 18th, Jane Marshall will speak on "Biscuits and Bison:  Exploring Riley County's Food Heritage".  The free program is in part with the temporary exhibit "Forces: The Shaping of Manhattan, Fort Riley, and Kansas State University" at the Flint Hills Discovery Center.
Commissioner, Dave Lewis also wanted to remind people that the county offices will be closed November 12th in observance of Veteran's Day.