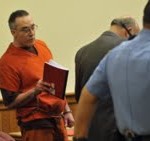 A Manhattan man convicted in August for 21 charges, including numerous rape charges for two female children ages 10 and 13, received his sentence on Wednesday.
John Goodpasture Jr., 43, appeared in court with his defense attorney, Gene Parrish, who stated he recently came into information from witnesses that were unable to attend trial.  He requested the state not destroy any recordings of phone calls and asked that the court listen to the new recordings before proceeding with sentencing.
Judge David Stutzman denied continuation of the trial and went forward with the sentencing.
Assistant County Attorneys Kendra Lewison and Bethany Fields, told the court the state's recommendation was 25 years-life in prison.  Their reasoning was due to the fact there were two victims and multiple occasions with both victims, and because of Goodpasture's "substantial criminal history".
Judge Stutzman gave Goodpasture the opportunity to make a final statement before receiving his sentence.  Goodpasture said, "You haven't heard half of the testimony that should have been in this courtroom.  I want to take the stand more than anybody."  After being asked by Judge Stutzman to lower his voice, Goodpasture ended his statement.
The court ordered Goodpasture serve two consecutive life sentences for counts 1 and 6, one for each victim, and concurrent sentences for the rest of the charges.
After the court announced this sentence, Goodpasture said "I want to make it real clear in court, I intend to appeal everything."