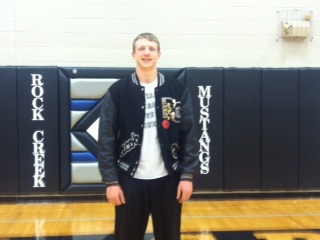 Out of the millions of high school seniors across the country, Rock Creek's Jacob Miller is one of just 100 students named a Wendy's High School Heisman winner.  Miller and Haydn Herlocker of Girard High School share the Kansas honor.
Miller is a three sport standout for the Mustangs in football, basketball, and baseball.  He was a three year starter on the Mustang offensive line, and also was plugged in on the other side of the ball this season, with 15 tackles.  Miller averaged 7.5 points and 10.5 rebounds for the Rock Creek state tournament run on the hardwood.  He also was the Mustangs' three hole hitter on the state bound team on the diamond last spring.
The award combines academic and athletic achievements, community leadership, and involvement in extracurricular activities.  Each school selects a winner, and then judges pick two statewide High School Heismans, one boy and one girl.  There is also a group of 12 national finalists and an eventual national Heisman winner.