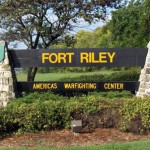 Fort Riley authorities announced Monday the deaths of two 1st Infantry Division Soldiers this past Friday in Pakktika Province in Afghanistan. Sgt. Channing Hicks, 24,  and Specialist Joseph Richardson, 23, were killed when enemy forces attacked their unit with an improvised explosive device and small arms fire.
Both Soldiers were infantrymen assigned to 1st Battalion, 28th Infantry Regiment, 4th Infantry Brigade Combat Team, 1st Infantry Division at Fort Riley.
Hicks was originally from Greer, South Carolina and joined the Army in June 2006. He previously served two deployments to Iraq with the 1st Infantry Division.
Richardson was originally from Booneville, Arkansas. and arrived to the unit in October 2008. He had previously served one tour to Iraq with the Big Red One.
This was the first deployment to Afghanistan for both Soldiers.