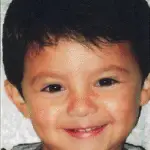 With the help of the Topeka Police Department, the Riley County Police Department was successful in finding Benjamin Chavez-Birdwell.
Sometime during the evening of Wednesday, November 21, Benjamin was found at a Topeka residence.  He is in good health and will be reunited with his father.
Sonja Birdwell was arrested for aggravated interference with parental custody and is being held on a $10,000 bond.
Police are still looking for the 2008 white Mazda 3 with Kansas license plate 053 EBR.  It is still being considered stolen at this time.
Police are asking for any help in locating the vehicle.