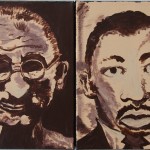 The Manhattan Public Library is currently accepting entries for their 2013 Martin Luther King, Jr. Art and Writing Contest. Residents ages kindergarten through adult in the Riley or adjacent counties in Kansas, are encouraged to participate.
Artwork entries should be original, two-dimensional, and no larger than 20″ x 30″. Writing entries can be an original letter, poem, memoir, or story of a personal experience, or other appropriate form. Written works should be no longer than 500 words, and should be typed or legibly written. Both writing and artwork entries should follow the theme "Peace: Let it begin with me", and are judged for: originality, creativity, content and relevance.
Prizes totaling more than 1000 dollars will be awarded. Creators of winning entries will be asked to participate in an awards recognition ceremony during the Martin Luther King, Jr. community celebration on Jan 21st at Manhattan Town Center. Entries are due by six p.m., January 13th, 2013 at Manhattan Public Library.  Additional guidelines, and entry forms can be found by visiting Manhattan Public Library online at  www.manhattan.lib.ks.us, or by calling 785-776-4741.