After a disappointing loss to Baylor and watching Oklahoma win three straight games to end the regular season, the sixth-ranked Kansas State Wildcats knew that it was time to take care of business on their own if they wanted to secure the Big 12 Championship and the league's automatic bid to the Bowl Championship Series.
After a rather sluggish first half the Wildcats turned on the afterburners in the second half and pulled away from a feisty Texas team with a 42-24 victory before a Senior Night crowd of 50,912 at Bill Snyder Family Stadium.
Quarterback Collin Klein scored two touchdowns on the ground and electrified the crowd with a 55-yard touchdown pass to a wide open Tyler Lockett early in the fourth quarter. Running Back John Hubert also contributed three rushing touchdowns to the effort. After being gashed by Texas at times, the K-State Defense stepped up forcing two key fourth quarter turnovers that eventually led to scores.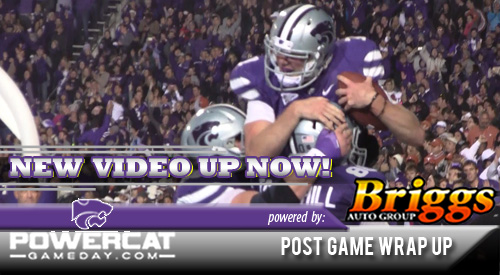 While Kansas State shares the Big 12 title with Oklahoma, a 24-17 winner over TCU earlier Saturday, the Wildcats punch their ticket likely to the Fiesta Bowl by virtue of their 24-19 win over the Sooners in Norman on September 22.
It's the third conference championship in the 117-year history of K-State Football. The Wildcats were Big Six Champions in 1934 and captured the Big 12 title in 2003 with a 35-17 romp over OU in the Championship Game at Kansas City's Arrowhead Stadium.
For full video wrap-ups, including analysis, highlights, coaches & player interviews of K-State Football & Basketball check out PowerCatGameday.com
*** Get Updates and Alerts on all things KSU on your phone! text EMAW to 88474 ***